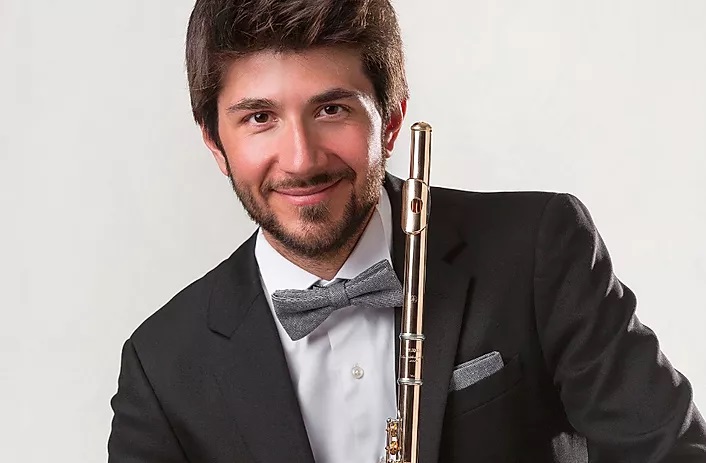 As a result of his recent achievement as the 2017 winner of the International Respighi Prize, Tommaso made his debut as a featured soloist with the Chamber Orchestra of New York on the prestigious world stage of Carnegie Hall in 2018.
​His concert carrer as flute soloist brought him to perform in many of the main world stages such as Carnegie Hall in New York, Smetana Hall in Prague, Mozarteum Großer Saal in Salzburg, Novaya Opera in Moscow, Beijing University Hall and Guangzhou Opera House in Cina, Salle Cortot in Paris, Sala Verdi and Royal Palace in Milan, Teatro La Fenice in Venice; performing as guest soloist with Chamber Orchestra of New York, North Czech Philarmonic, State of Mexico Symphony Orchestra, Camerata Vienna, Ural State Symphony Orchestra, Thueringen Philharmonic Orchestra, I Solisti di Milano. Since 2014 Tommaso is also regularly invited as guest artist at l'Avana International Music Festival in Cuba.
​The main italian music magazine "Suonare News" dedicated Tommaso an article as member of the new generation of italian musicians, and his recordings for Velut Luna (chamber music for flute, cello and piano) and Concerto Classics (music for flute and piano by Alfredo Casella) were enthusiastically reviewed by main Italian radios such as Rai Radio 3 and Radio Classica and by specialized magazines.
​He collaborated with worldwide famous artists such as Luciana Serra, Giovanni Sollima, Emmanuel Ceysson, Andrea Battistoni, Leonora Armellini. As orchestra member of Hulencourt Soloists Chamber Orchestra in Bruxelles, International Michelangeli Piano Festival Orchestra and Orchestra Antonio Vivaldi he had the chance to work with Placido Domingo, Daniil Trifonov, Lilya Zilberstein, Nelson Freire, Augustin Dumay, Francesco Meli.
​Tommaso Benciolini is also flute professor in Verona Conservatory "E. F Dall'Abaco" where in 2012 he became the youngest teacher. He's also been invited to give masterclasses in Cuba (International Contemporary Music Festival), Finland (Tampere Music Academy and Suomitaly Music Festival) and Estonia (Tartu Eller Music Academy).
​Born in Bologna (Italy) in 1991, began studing flute at twelve and graduated at eighteen at Conservatory "E. F. Dall'Abaco" in Verona achieveing the highest honors. After his diploma he won competition for the year's best graduated music students in Italy. Winner of scholarship from french foundation "Zygmunt Zaleski" he later studied at Ecole Normale de Musique "Alfred Cortot" in Paris with Pierre-Yves Artaud and after that he grauated form the Lugano University of Music (Switzerland) and got the "Master in Advanced Studies" with the internationally renowned soloist Mario Caroli. Following his two masters, he perfected his skills under the guidance of Giampaolo Pretto and Nicola Campitelli.
​In 2020 Tommaso will make his debut in the prestigious stage of Berliner Philharmonie in Germany as guest soloist with Berlin Symphony Orchestra, he'll also tour in Russia, Spain, China, Austria, Germany. Tommaso plays a handmade Japanese 14k golden flute by Yamaha.